Motorcycle Wheel Repair Pictures
Extreme Motorcycle Wheel Repair
Frame Straight

Home List of Services Motorcycle Wheel Repair

Mission Impossible?
We don't think so.....
We see many levels of MC wheel damage here in our shop . These are a few examples of some of the worse case scenarios and their subsequent repair story.
Repair prices shown are current as of Date below.
The last addition to this page was on 07/17/07 01:38:03 PM

2005 GSXR , unbelievable, it didn't crack?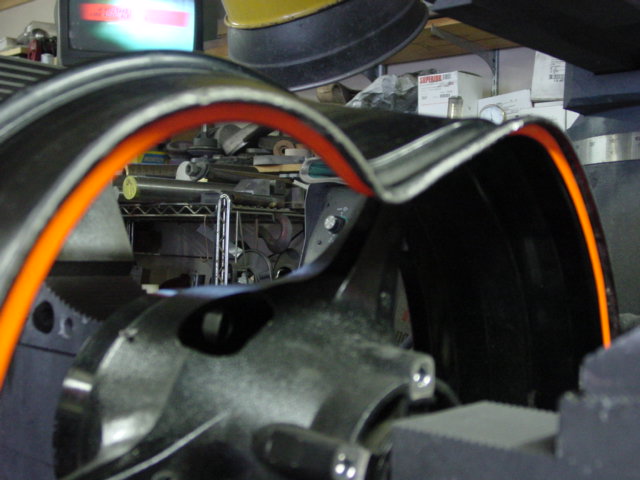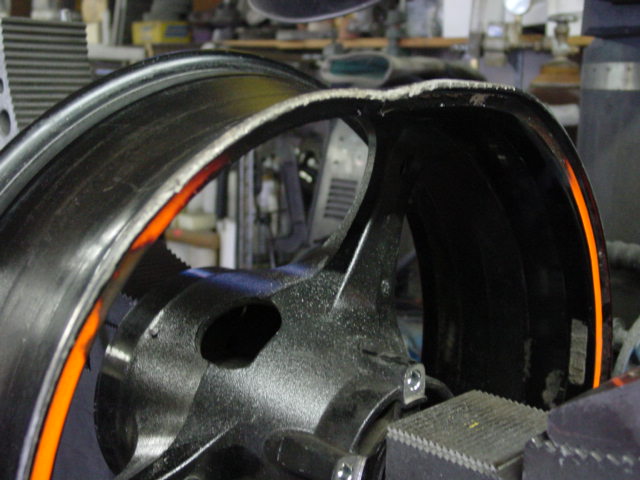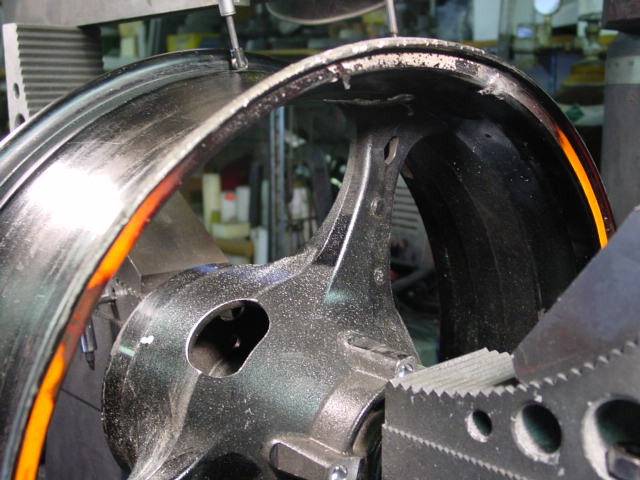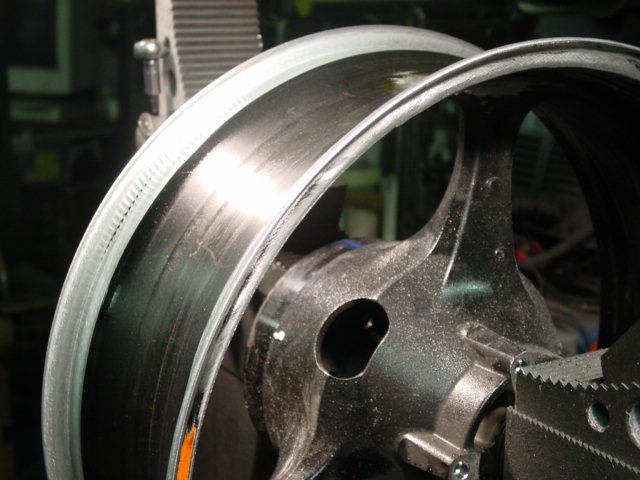 $160.00 to fix, MC Hammer "Can't touch this " ....Better than new .001"/.02 mm T.I.R.

A minor repair on these Marchecini Forged Mags . 001" T.I.R.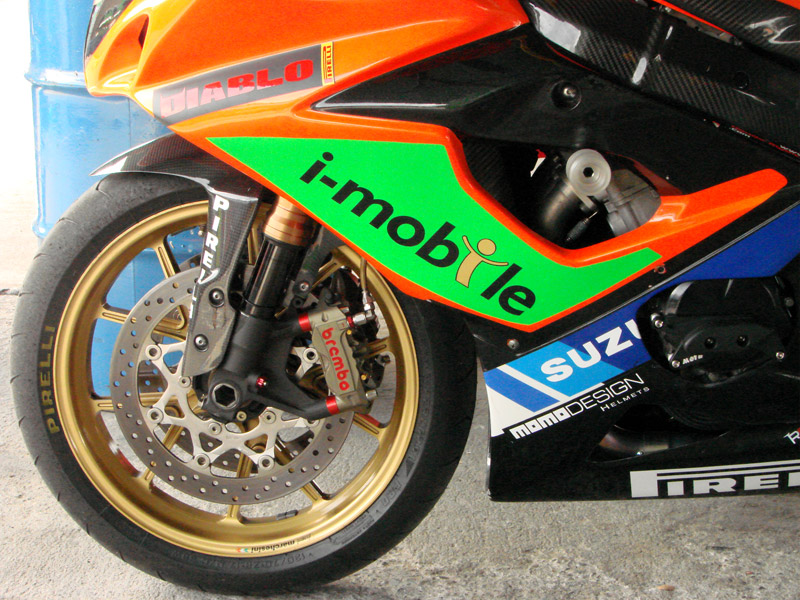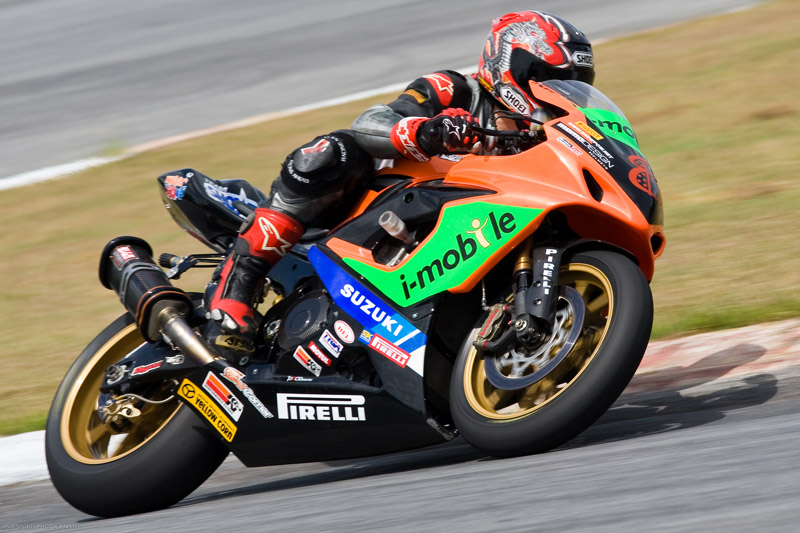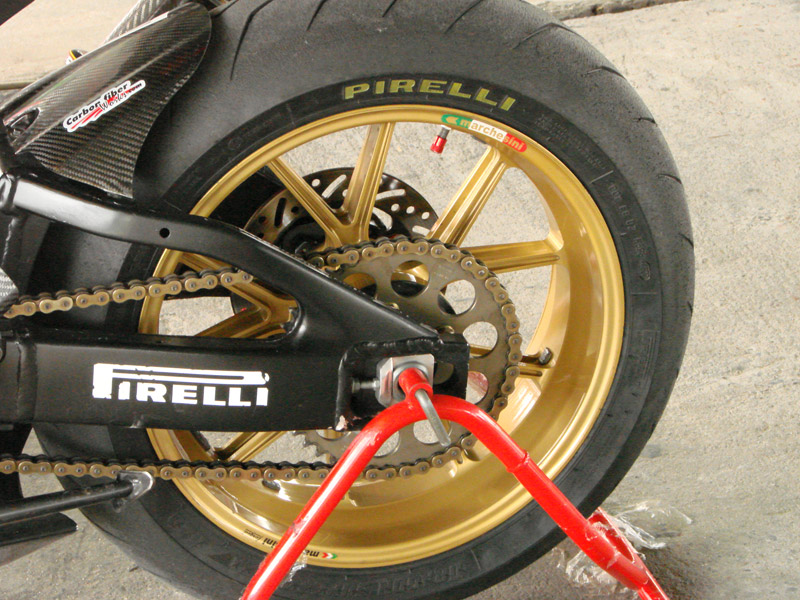 Patiparn Sirichamroonvit
Racing with Federation of Motor Sports Club of Thailand
Pat is on the leading wave of new riders on 600cc+ now racing in Thailand.
He is also my first customer from so far away.
Its good to be # 1, Thanks Pat

Jim sent this in with a challenge.." I'll bet, you can't fix this one"..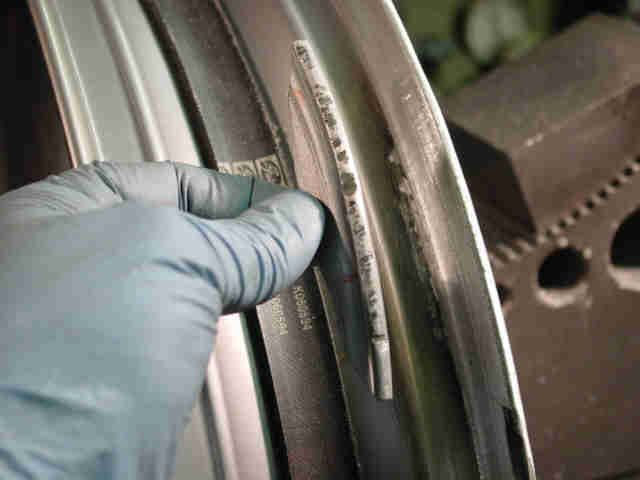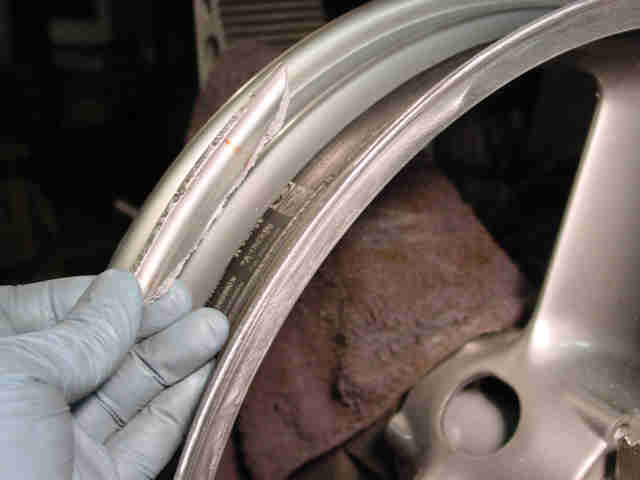 .002"/.05mm T.I.R. ... I should have bet more... $190.00 done

That right your not seeing things ! It's..... SQUARE !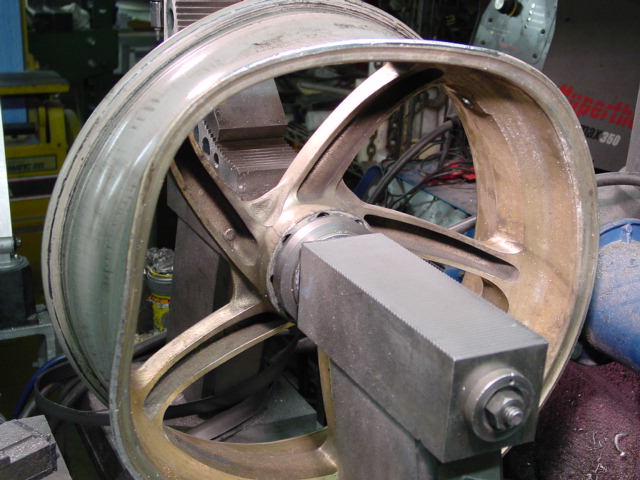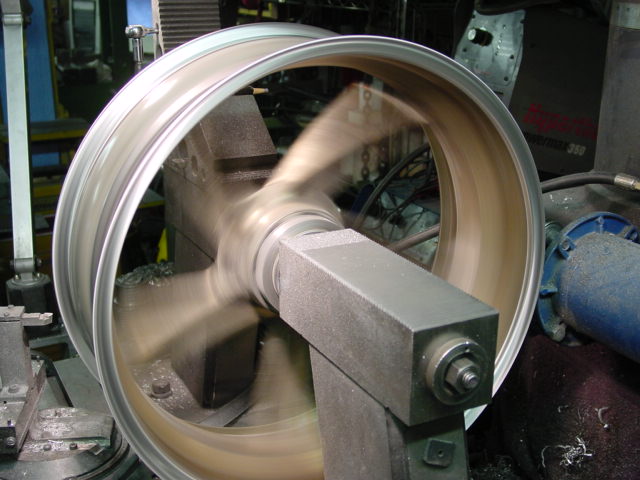 Ducati Marchesini Magnesium rolling a-round again.. .002"/ .05mm T.I.R. $150.00

Some Scary Stuff
You can not epoxy a broken wheel, and expect... it to be safe?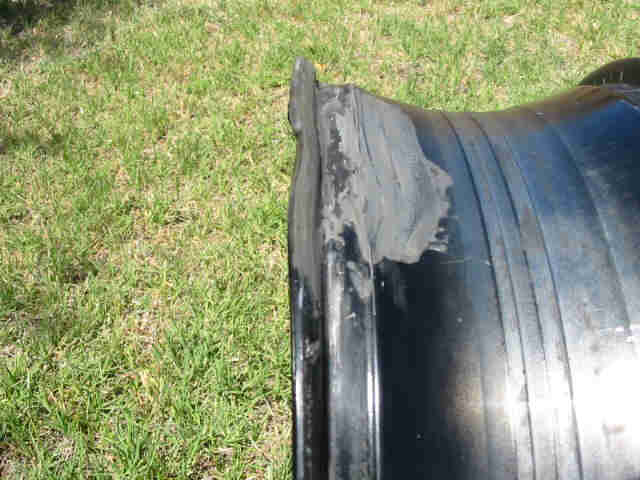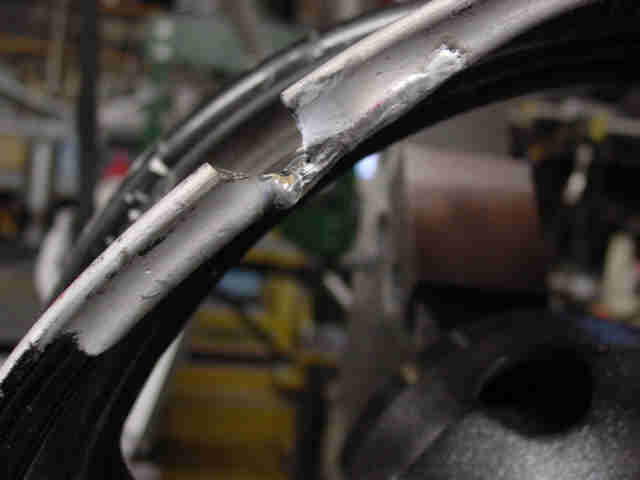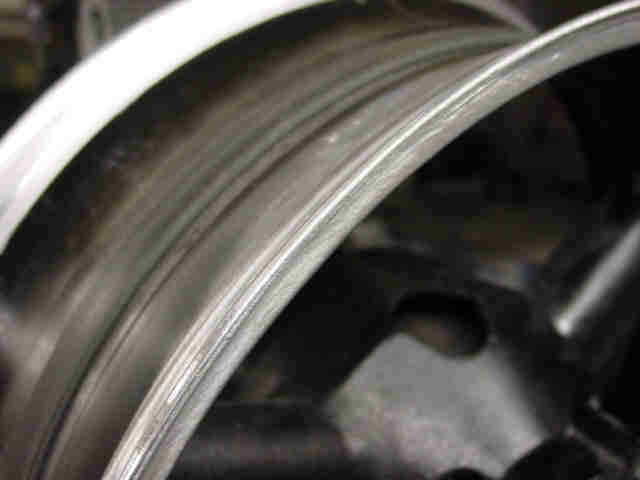 Charlie picked up a TL 1000 with this wheel on it , he sent it to Frame Straight to be repaired right...
.04mm/.0015" T.I.R. $ 190.00
Thanks for the Pic's Charlie, enjoy your bike...

More fun with Epoxy ? , JB Weld strikes again... don't get me wrong ,"I like this JB weld stuff "
in the right application.... MCWheel ? .... Not..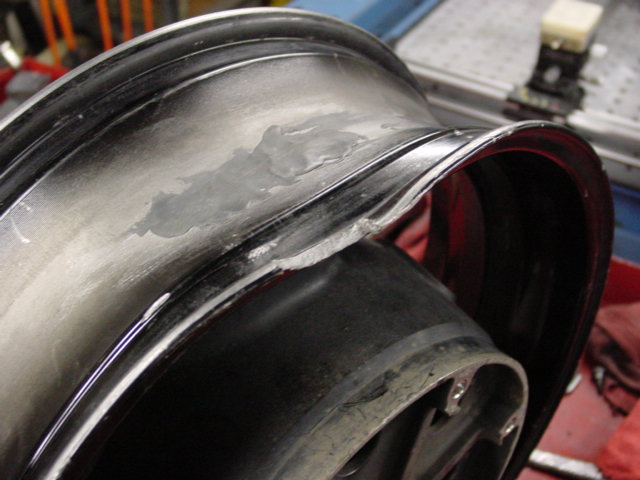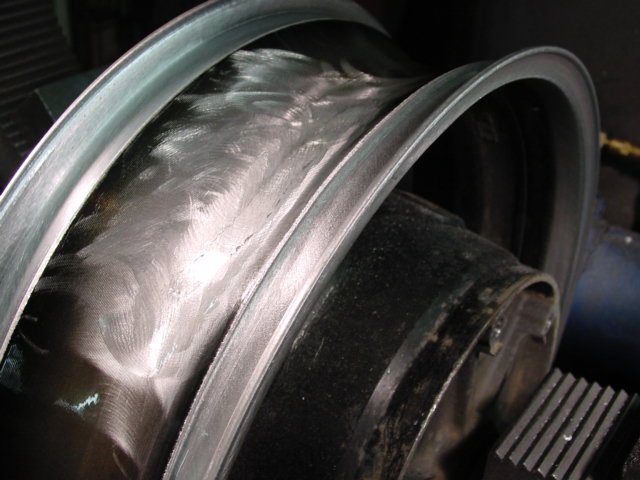 Clean out the JB Weld, then Weld up missing chunk, true, and machine
.003"/ .07mm T.I.R. $180.00

21" not too bad.....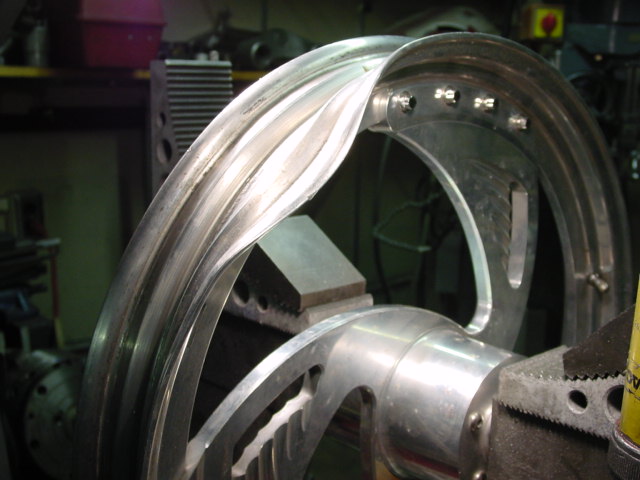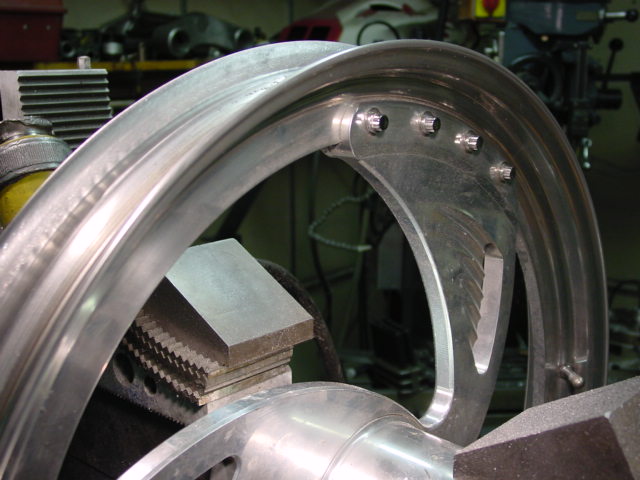 .003"/ .07 mm T.I.R. $170.00

From the Mini Mag to the Mighty Monster, Boss Hoss, we have the what it takes to get it right.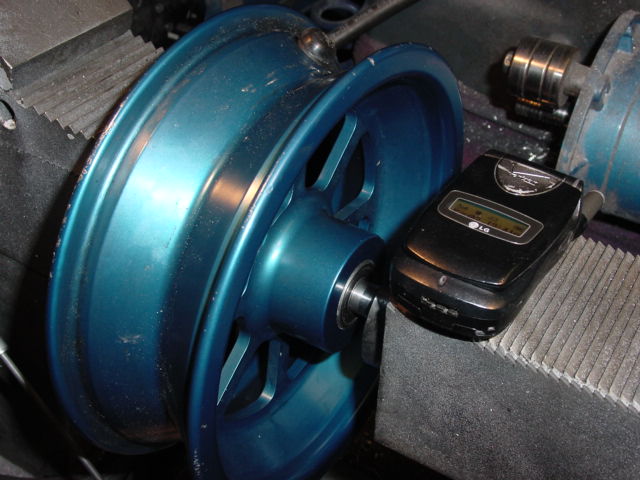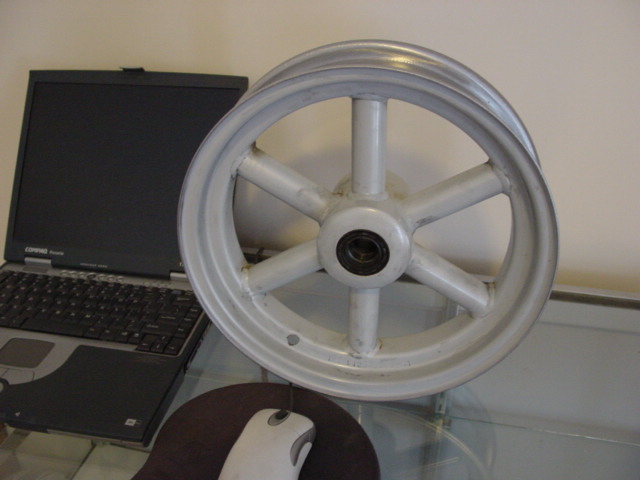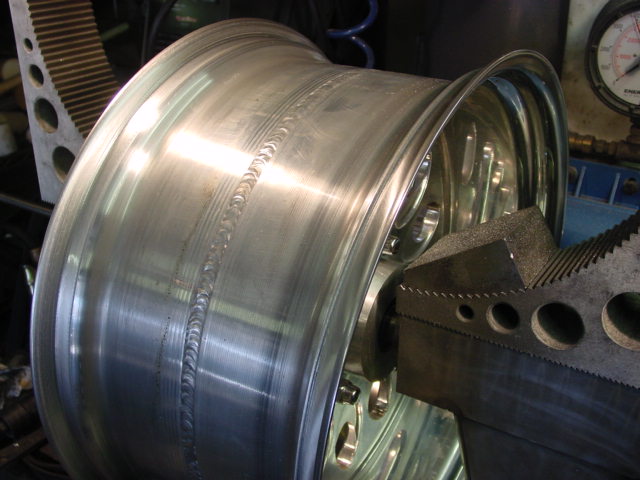 This wheel is posted to settle a dispute, for Shane
apparently someone believes that this cannot be repaired...?
RC Component 21" polished Aluminum wheel, with minor damage,
Minor 1/4" dent with 1/8" lateral pull toward the dent.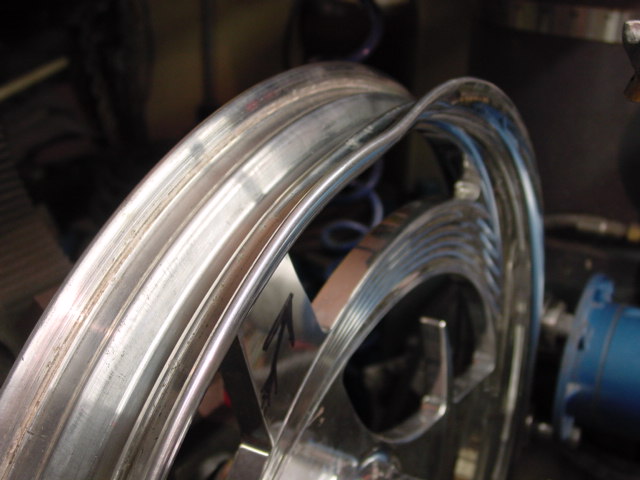 .....then and now....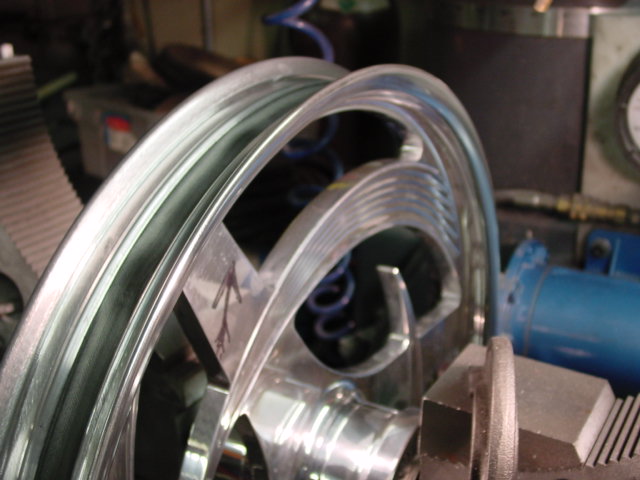 Less than .003"/.07mm T.I.R.
$160.00 , Any Questions?

Give Me A break, I need one after this .... J.G. I almost gave up, this was a tough one.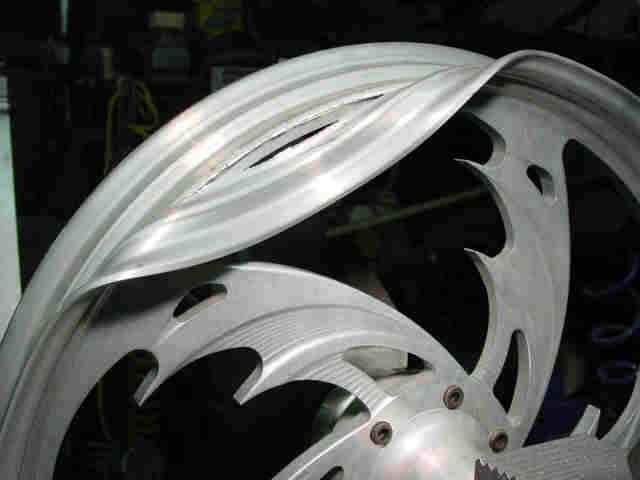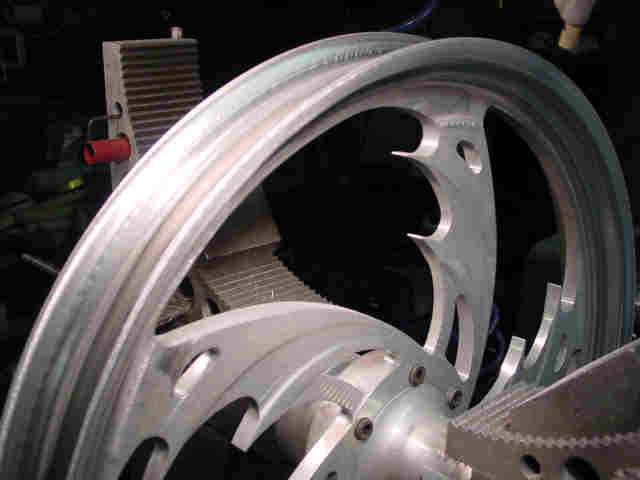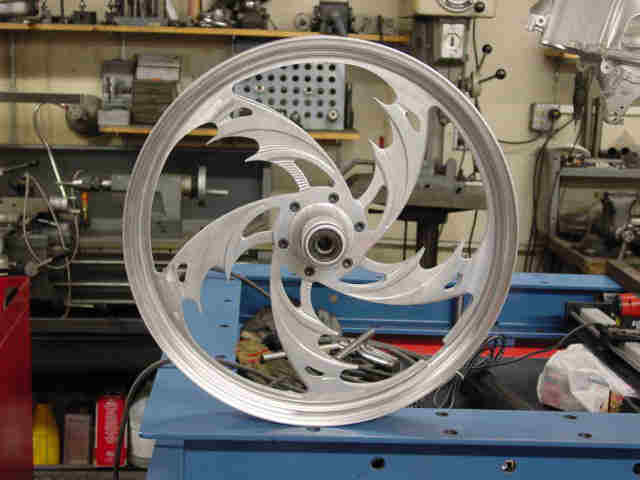 Lucky we had a snow storm today, 7+ hours to complete this one. $200.00
.004"/.1mm T.I.R.
The disaster in a pair.......This picture doesn't do the damage justice.
Look close, both wheels are ripped open.
Work in possess, will post another picture as soon as there finished.
I'm waiting for another snow storm !

Ouch ! That had to SUCK........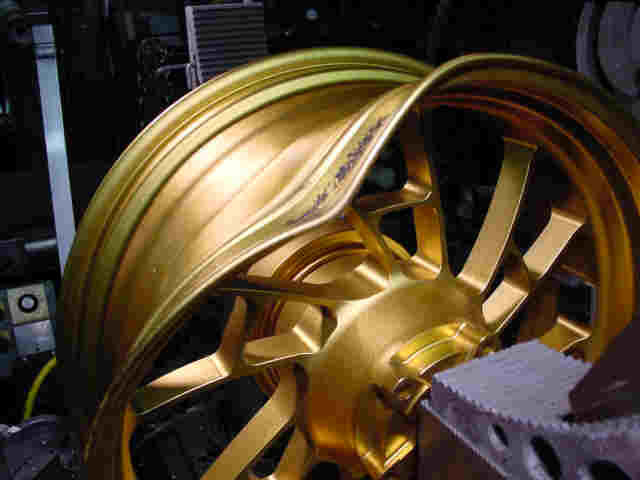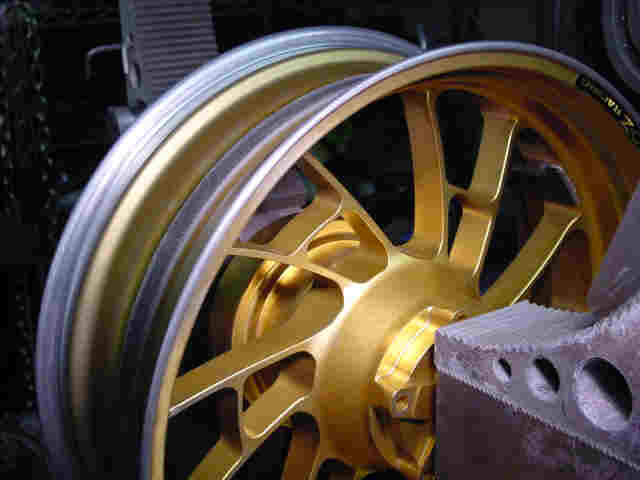 Beside the obvious, there was also a 1/2" lateral run out.
this Die Cast "OZ Racing Wheel" , Expensive to replace, $160.00 to fix.
Finished at < .003"/.07mm T.I.R.

Yep ! He forgot a chunk of this Marchesini Magnesium wheel on the track!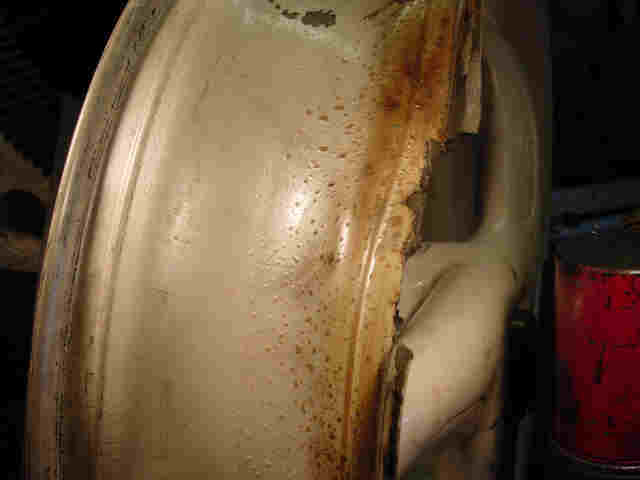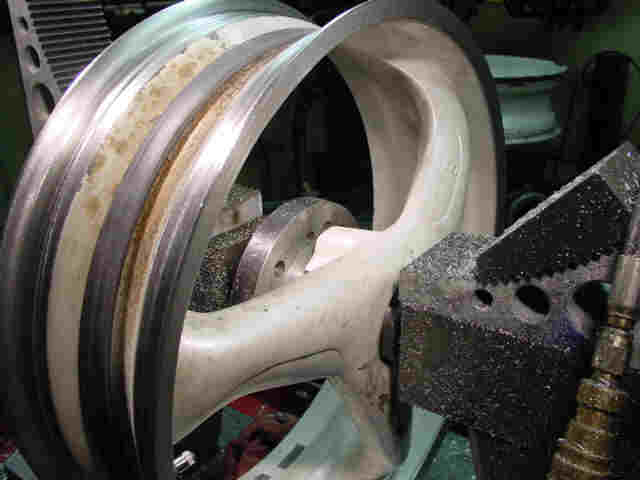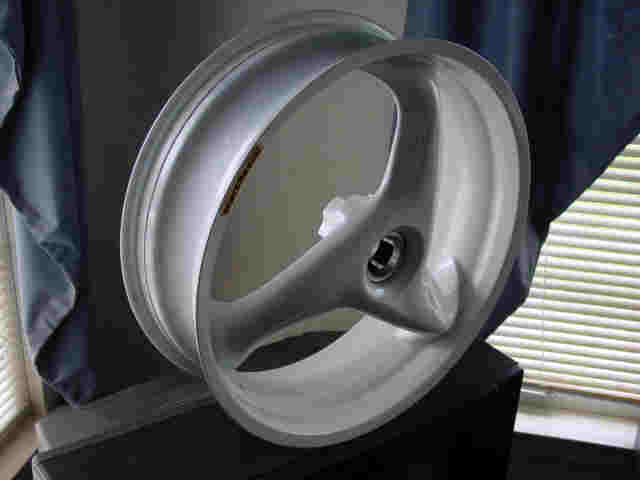 About 4"
Weld it up , Straighten it out , then finish it up.... > .003"/.07mm T.I.R. . . . . . . Sounds easy?
NOT !!!
Magnesium $210.00 to fix

Harley Davidson Motor Co. , Racing Division sent this one in, 21" Flat Tracker.
You can't see, but the spoke is also split.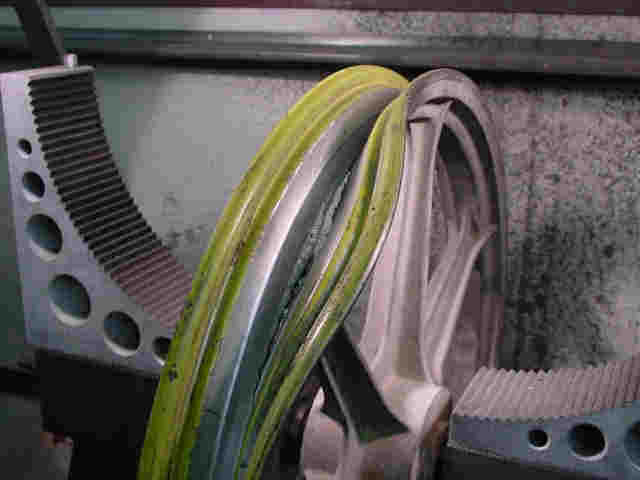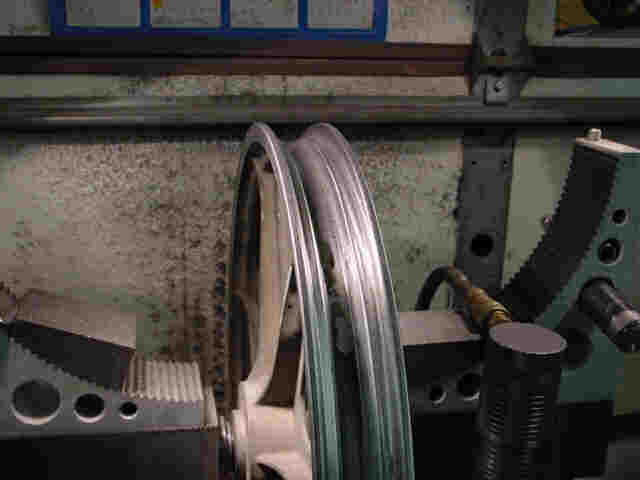 The repair included; Straightening, Welding, re-straightening
and machining on this Magnesium beauty. TIR < .003"/.07mm
$ 200.00 to fix

Thought I'd seen it all, Buell wheel with Bullet Holes through it.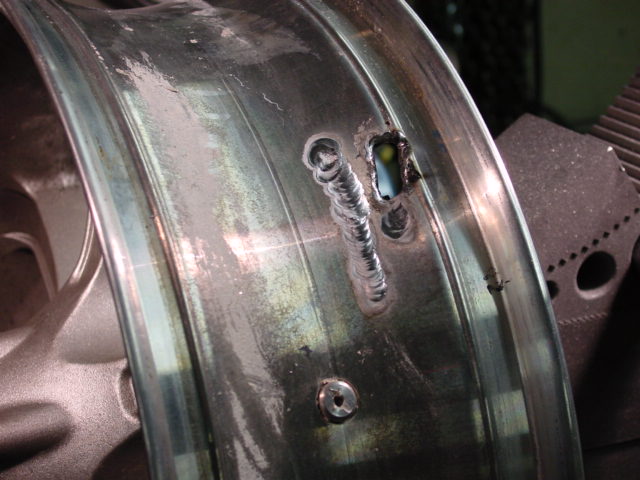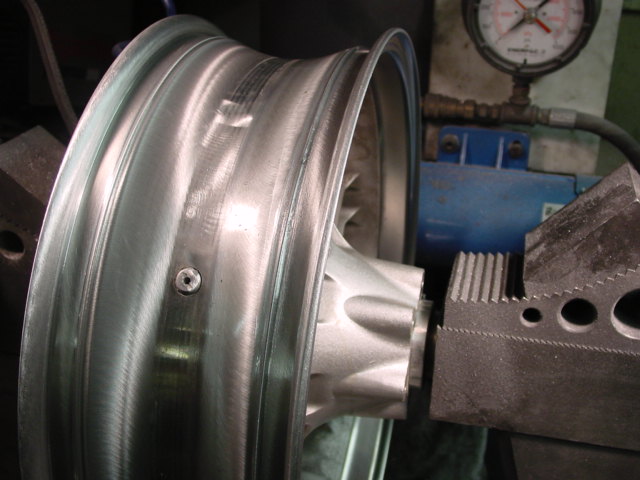 From police impound, a salvage project...Pictured mid repair and finished $190.00 to repair

This Aprillia Mille aluminum front wheel split wide open a 1/3 of the circumference of the wheel, it traveled from the left bead seat, through the center, along and out the right side bead seat. Similar to the HD wheel above. Plus a smaller 4" crack.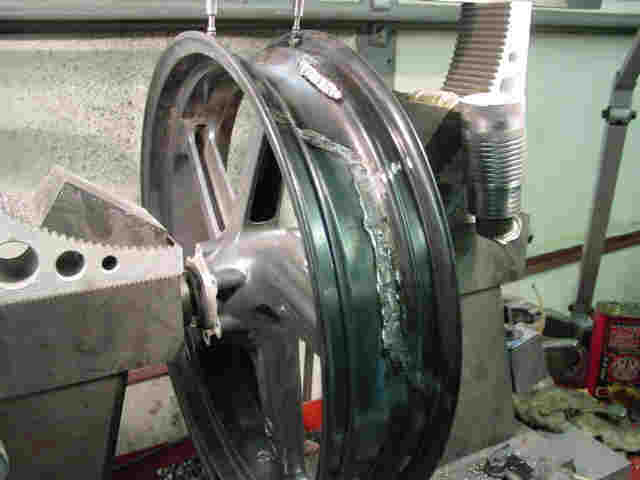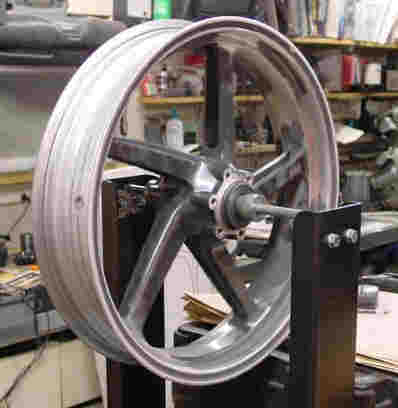 The repairs included; Closing the gap, grinding out a deep groove along the cracks, fill welding from both sides, annealing, straightening , heat treat, and machining. The total indicated run out (T.I.R.) when completed was <.003"/.07 at the tire bead seat. $ 210.00 to repair

We see all kind of exotic stuff.... McLaren Race Car Rear wheel... Magnesium and 25 " wide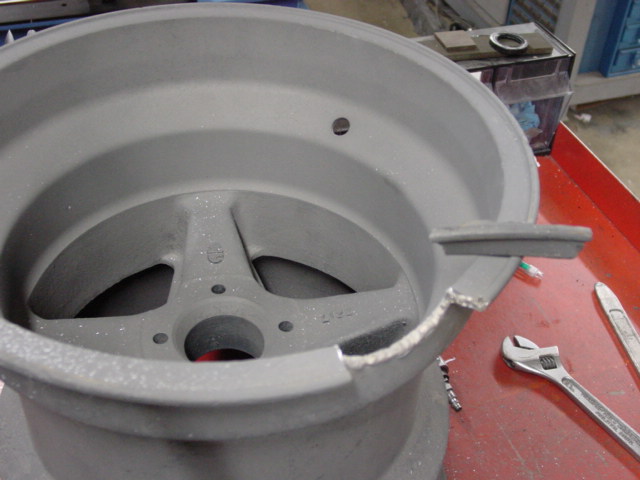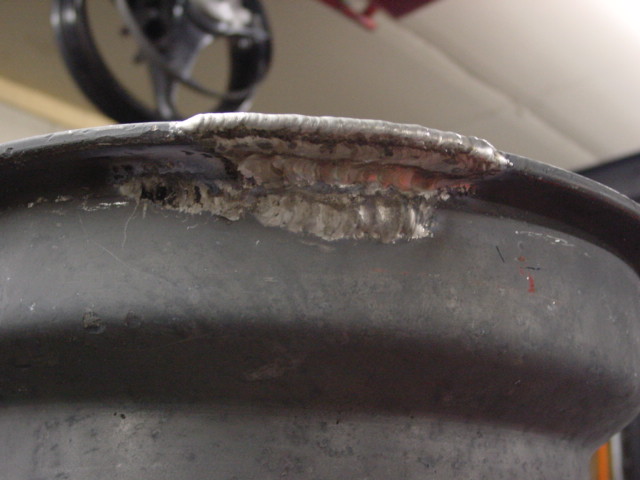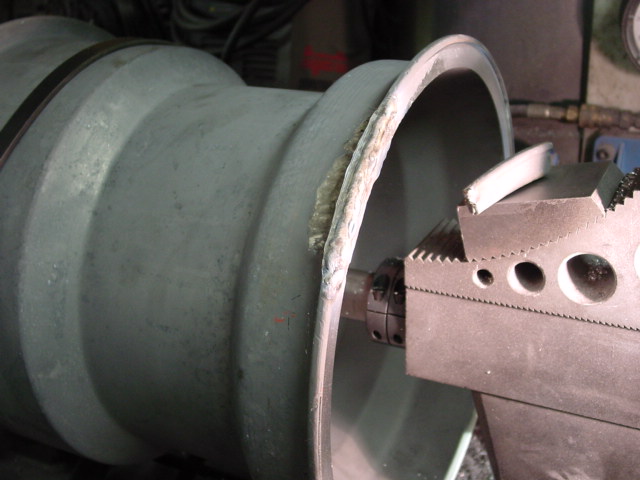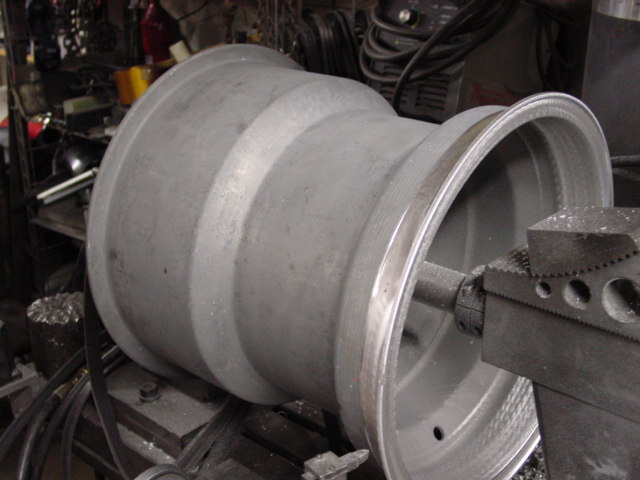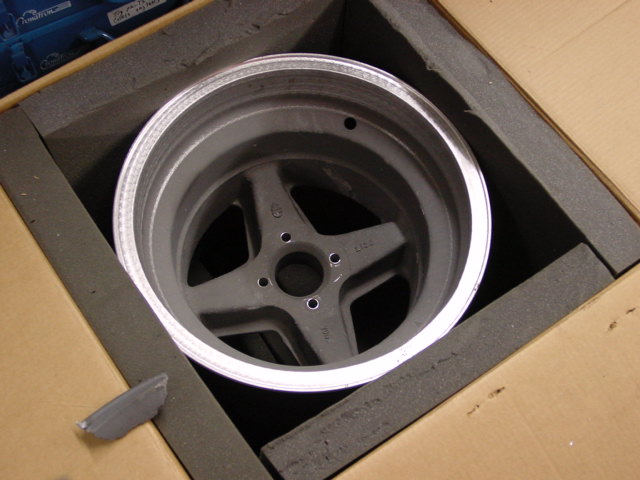 Price to repair $ , you don't want to know. Special tooling, kids in college , wasn't cheap!

Old Style BMW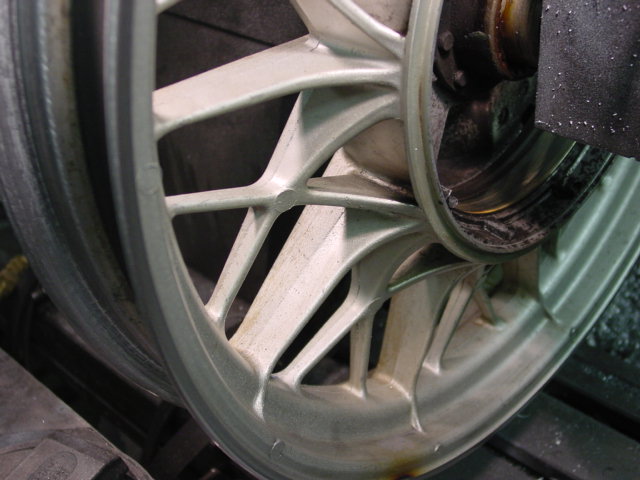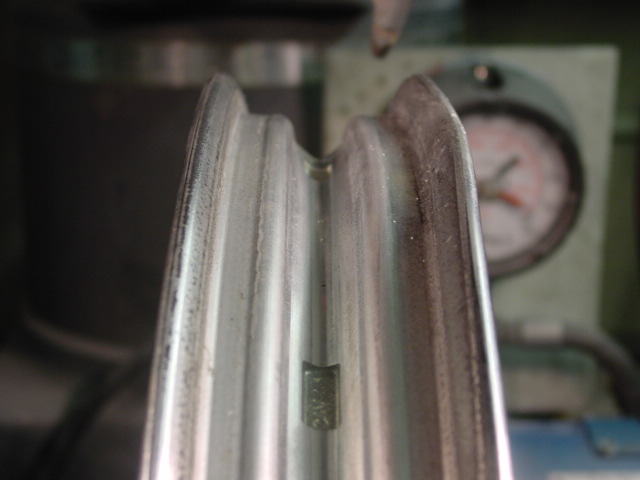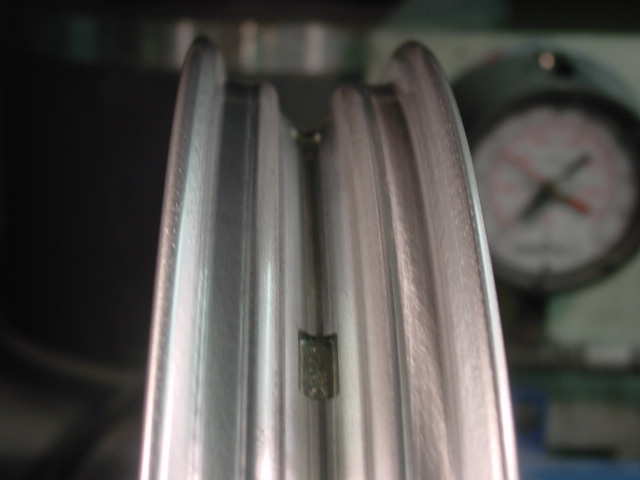 .001"/.02mm T.I.R. $140.00 to fix

This F4i Honda is a good example of typical rear wheel damage. As often happens when pushing out a sever dent, over a 1/2". The metal will not stretch out as well as it compresses at the apex of the dent. It often rips open.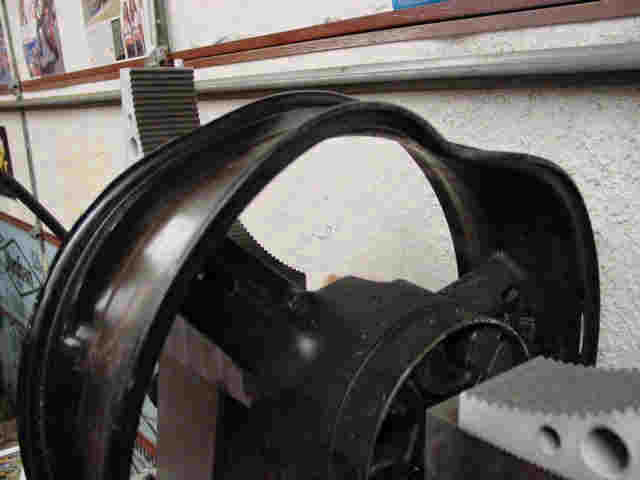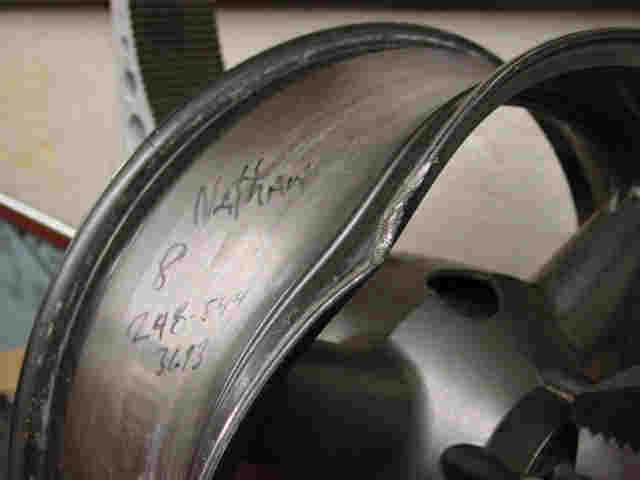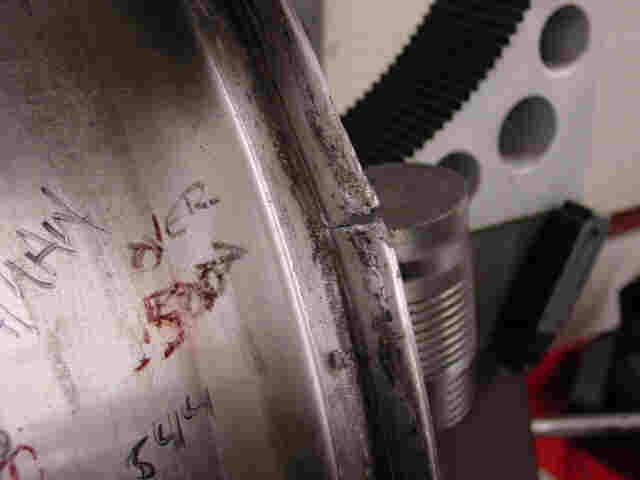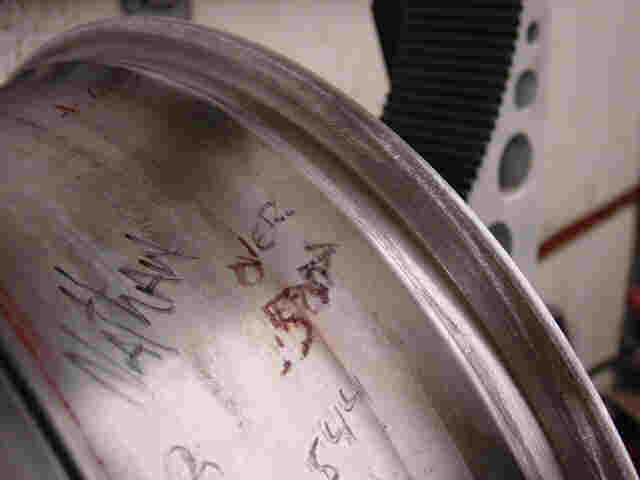 The repair; Straighten the wheel to about .025", fill weld the crack, pre machine, Straighten the wheel to about .010" or better, then final machine. This one had a T.I.R. < .002"/.05 mm at the tire bead seat. $170.00 to repair

This Marchesini / Hawk Wheel , re-designed by New Englander Charlie Chubbuck had a serious 2" dent in it.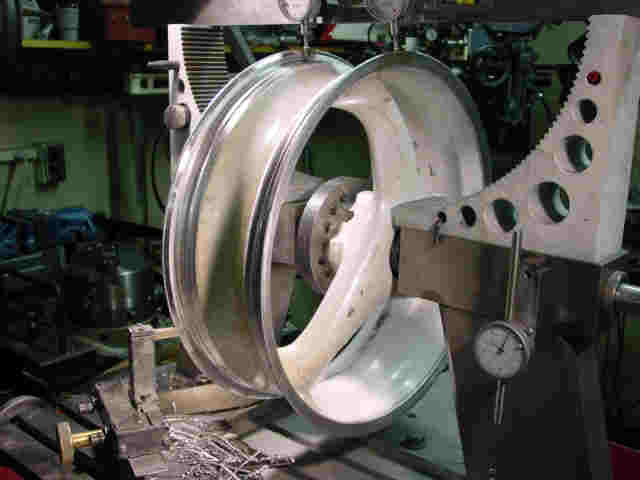 The repair; Warm the wheel locally, push to within .020", the rim lip split, the crack is irrigated then fill welded.
Allowed to cool, then Pre-machined, push to .008, final machine complete on two sides.
Final .003"/.076mm T.I.R. $ 180.00 to fix
Charlie, always good to here from you, glad your leg is healing up.....

This rear wheel from a VTX 1800 Honda, as you can see from the customer's picture, was hit hard enough to put a 4" crack in it. He e-mailed me the picture with a question..... Can You Fix This ? and how much $ ?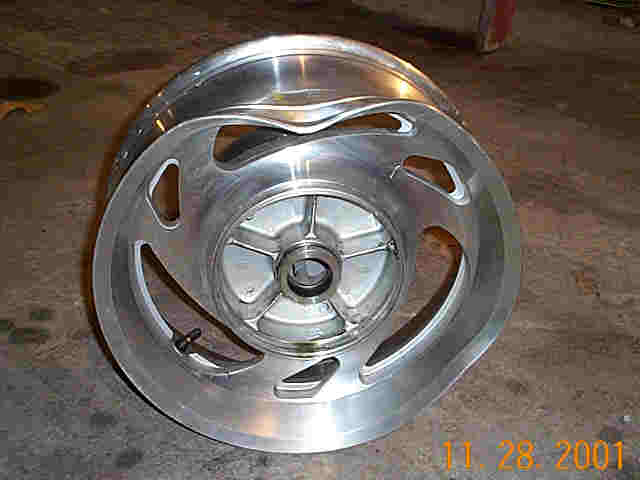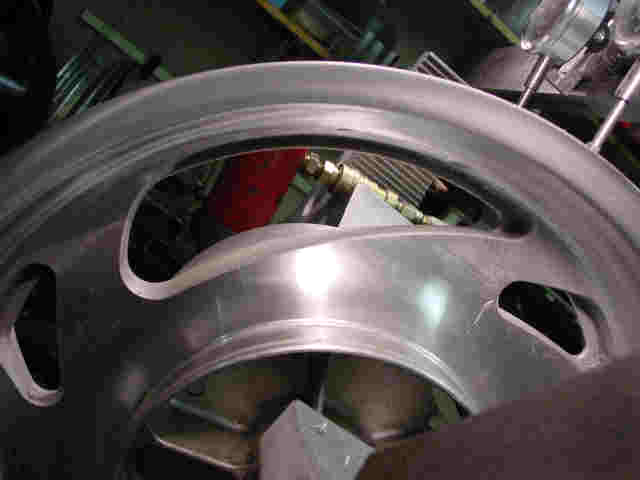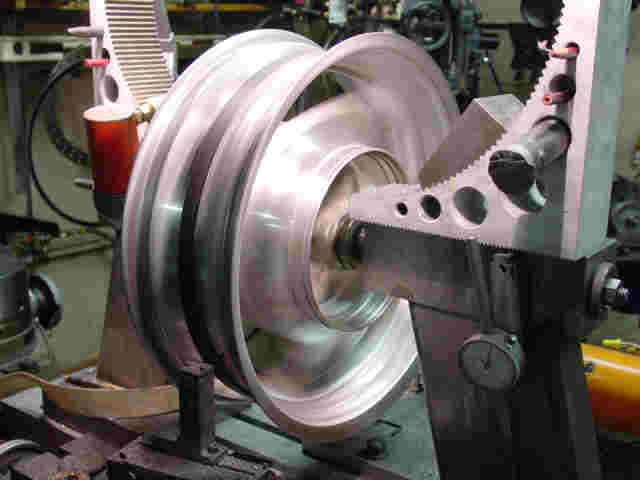 Guess What I Said...............
Pushing ,welding, machining, all the usual
This Wheel finished out at ,(I couldn't believe it either), LESS Then > .001"/.02mm T.I.R. If you don't believe it, I'll email you the mpeg video of this wheel spinning with dial indicators attached. $170.00 to repair

This magnesium PVM wheel was customized by Mark DeGross ,
I never asked how he did this, but I'm sure there must be a good story.....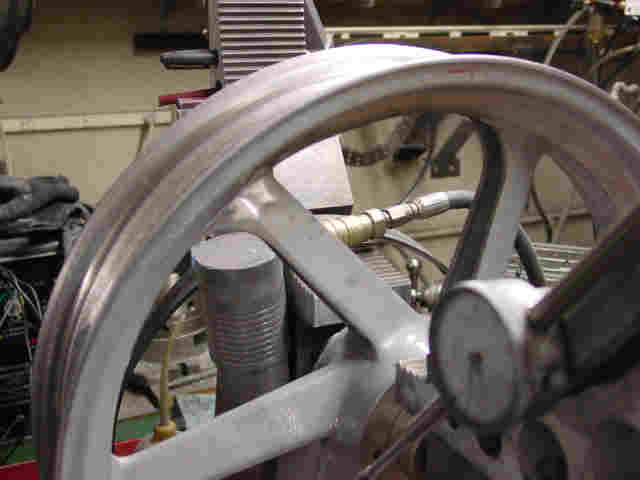 This one was tuff.... besides the obvious dents (x2) and 6" crack , the center space between the spokes was collapsed toward the hub. A quick bit of special fixturing and it was on it's way back to its former shape.
Welded, pushed to .008" , machine finished to .003"/.07mm T.I.R. $190.00 to repair
Mark, thanks for the all the referrals, and repeat work... Maybe consider a safer hobby...?

Bob came to us with a front end vibration problem at speed, so, we did what we do best....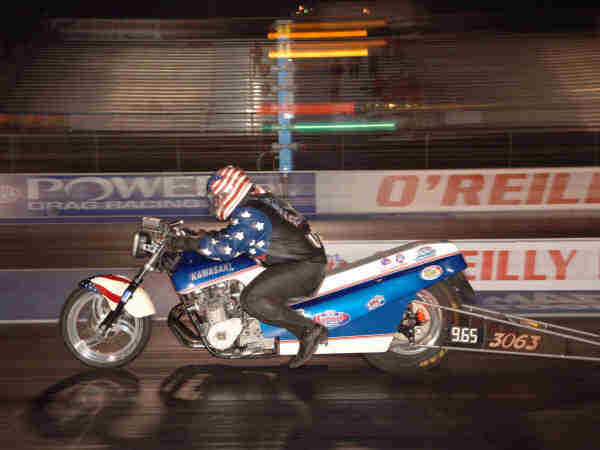 "Thanks again, wheel is great. Won track champion this year." Bob Nugent
Your Welcome! Rp

Terry picked up a Honda Cruiser wreck as a weekend project, wish I had that much time on my hands!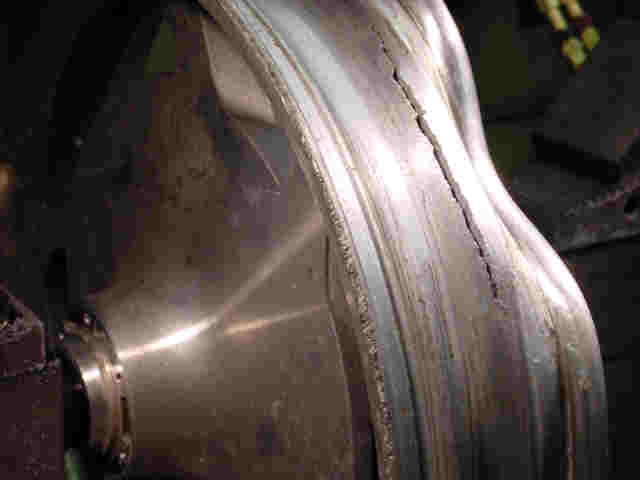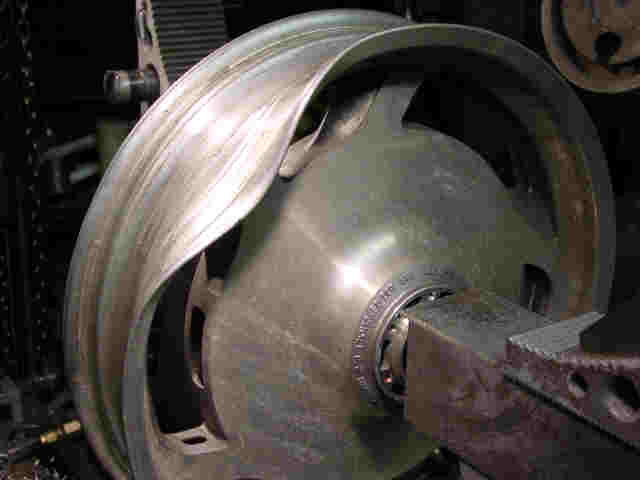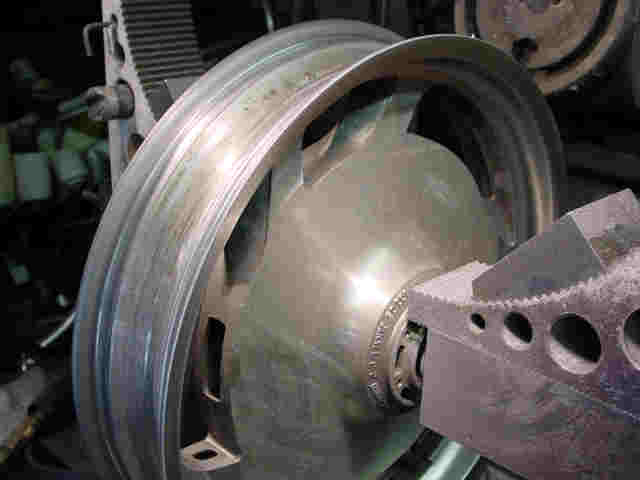 Just another day, weld, push, machine... under .002"/.05 mm T.I.R. $180.00 to repair
Terry, thanks for the phone message, I'm glad you were pleased.

Formula Ford Magnesium Dymag, good to go......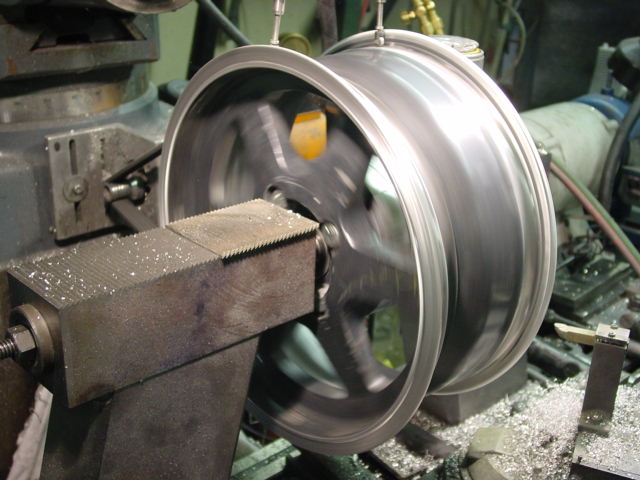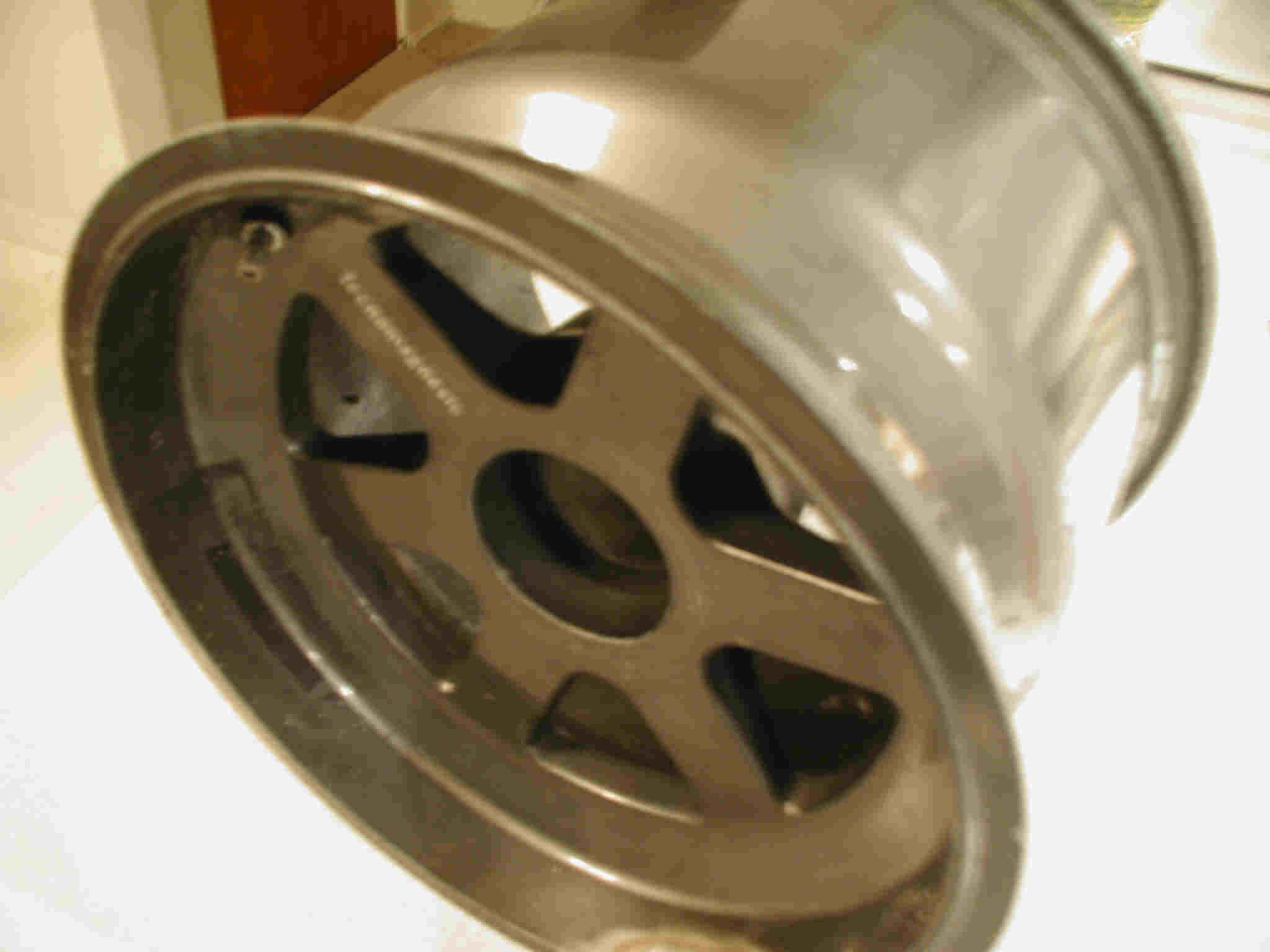 Try on a Top Fuel Dragster wheel for size........ Just (almost) missed the wall during a run.
Damm S.O.B. is Big!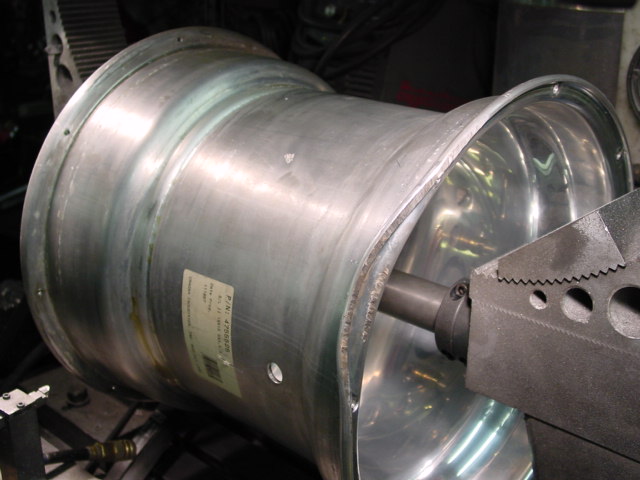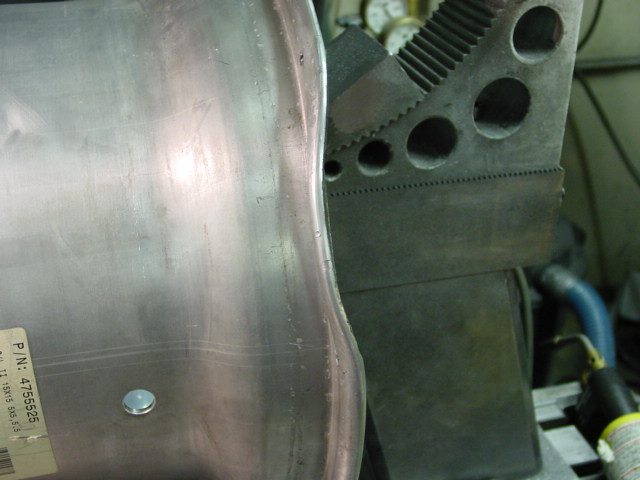 Your not Drunk! You should have see it spin...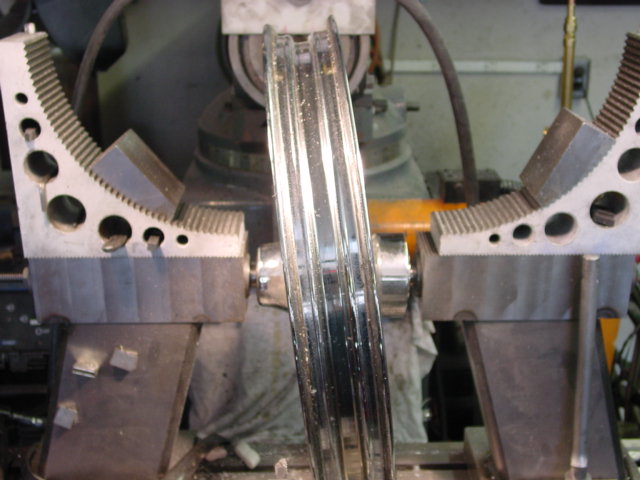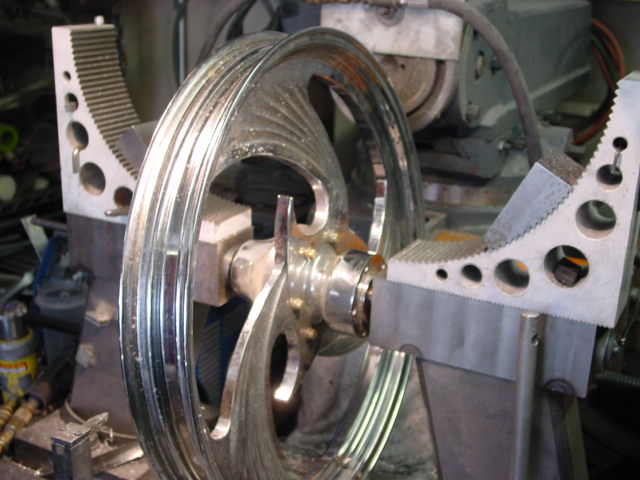 21" custom , No problem to fix. .004"/.1mm T.I.R. $160.00

Custom 21" good as any brand new wheel $ 180.00 to fix .003"/.07mm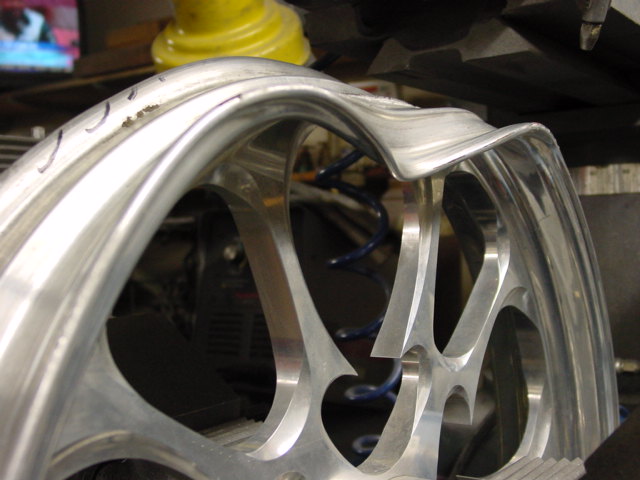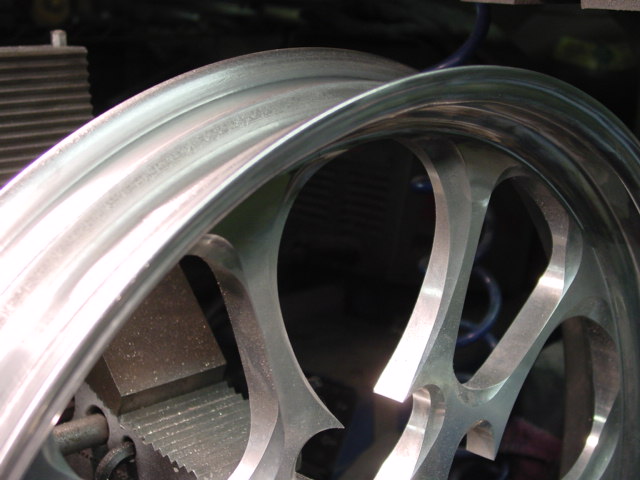 "MC Hammer Time"
The dent wasn't bad enough , so they beat it back with a hammer until it held air...
That's close enough , they said ???!!!! Owner actually paid to have it fixed this way ?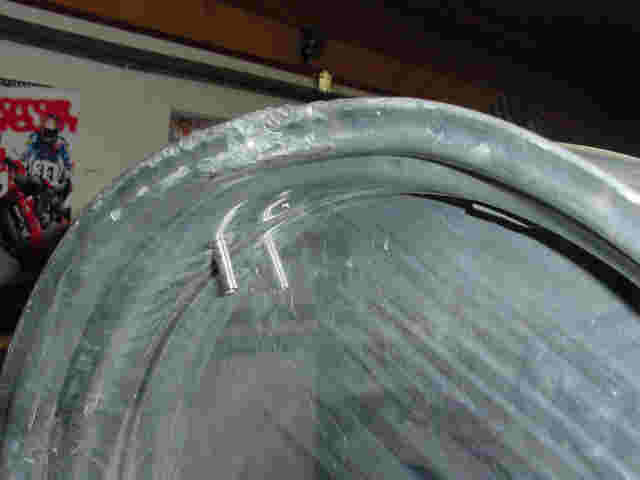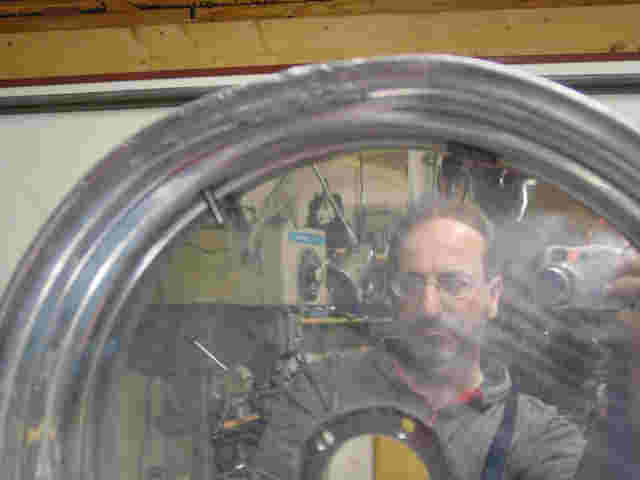 Then he found Frame Straight , paid again to have it fixed right....
good as brand new! $170.00 to repair .001"/ .02mm TIR ( polishing, out sourced )

Wheels Gone Wild !
There are some wheels we will not attempt to fix ... it's a matter of Time vs. Money...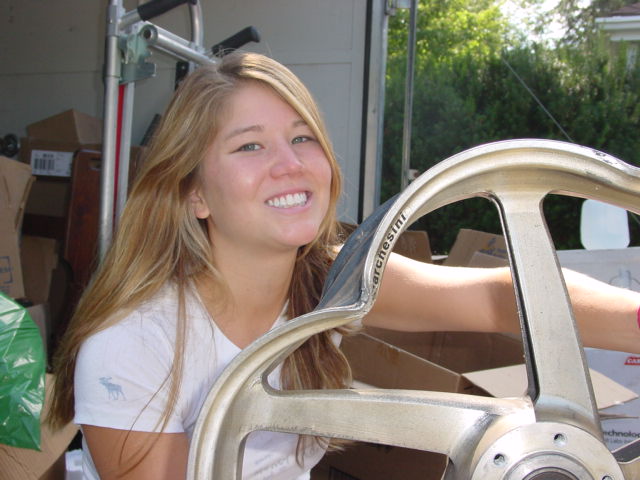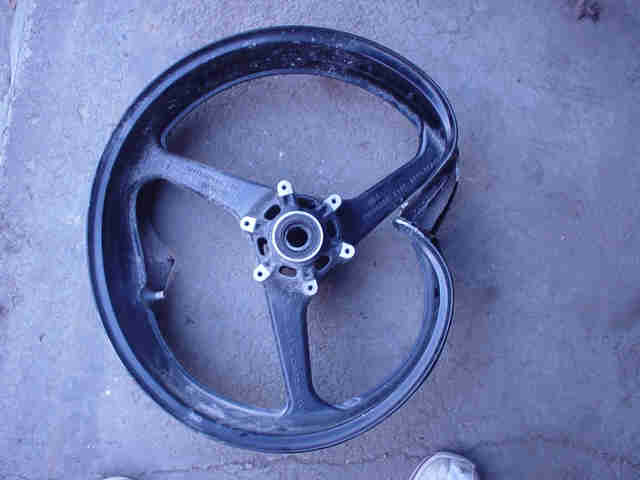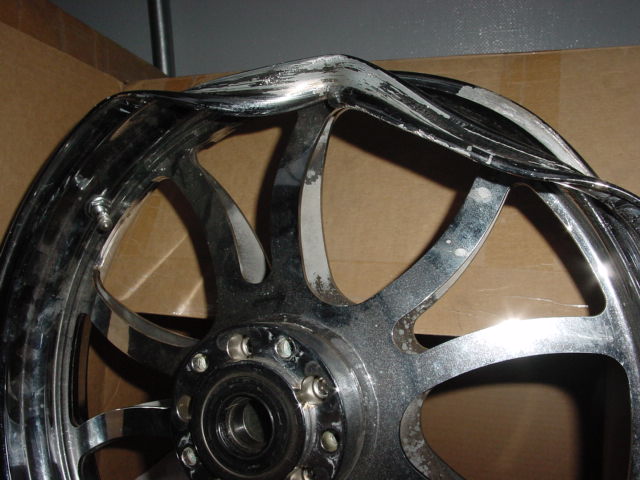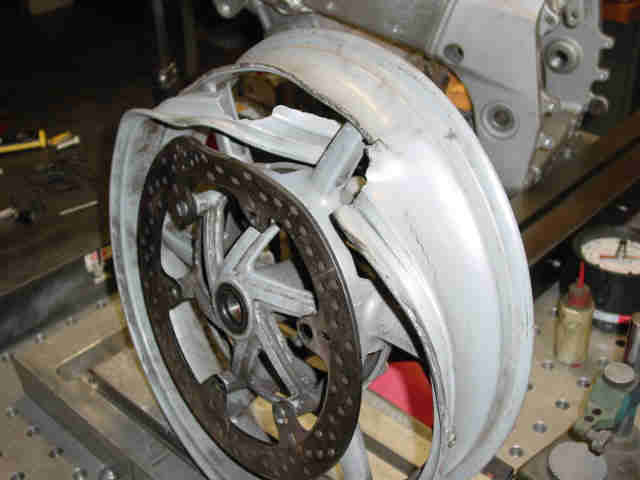 or , if we feel the end result may be questionable or dangerous...
If your not sure about your wheel, send us a picture, or send us the wheel.
If it can be fixed , we're the one's who can get it right.

These are just a few examples some very damaged wheels. We see least one or two a day
close to being this bad and five to six of the garden variety ,dents, dings, nick, and twists.
( F.Y.I. We lose money on these extreme repairs, We're just a suckers for a challenge. )
To date we have failed at only four repair attempts and had to trashed the wheels.
Not bad when you figure the thousand's of repair success stories...
Every one of them Safe, Precise, and ...... cost effective. ( Well ! ... at least for you. )


Experience the
Art of Straight


Copyright © 1999 [Frame Straight]. All rights reserved.
Revised: July 17, 2007 .