Motorcycle Wheel Repair " The most accurate repair in the world "
Click here > " A New Twist in Motorcycle Frame Straightening "
We are happy to answer any of your questions or concerns ,call or text us at .... 586 246 4500

Motorcycle Wheel Repair
Aluminum/Magnesium/Spun Alum.
by
Frame Straight

Kawasaki 636, shown below, re-repaired by Frame Straight T.I.R . .002" / .05mm
Frame Straight delivers precision wheel repair,
Day after day, wheel after wheel.
Tolerances as good as .000" to .004" T.I.R.
.00 mm to 0.1mm
See the difference for yourself ....
(Dial Indicator res. .01mm/ .0004" per line)
Kawasaki 636 repaired by an other wheel repair shop T.I.R. .014" / 0.35mm
The other MC wheel repair shop's best work "Claims"
by some to be as good as Frame Straight
In reality
Total Indicated Run out will vary
.014" /.35mm to .025" /.64mm
or worse
Factory Spec. as much as .080" / 2 .0 mm
Note, Factory Spec. Used by manufactures to avoid warranty issues.


Before you trust your wheel to any repair shop ...
Phone them and ask some simple questions.....
" What is your guaranteed finished tolerance or T.I.R. ?"

Total indicated run out, using a Dial indicator for precision measurement, Frame Straight uses Dial gages .01mm/.0004" resolution
Frame Straight repairs will leave "No Tooling Marks", No dings, No nicks , No impression in the metal of the wheel.
All welded repairs at Frame Straight are machined to insure the wheels original profile and proper tire seating.

I hear it almost everyday from customers that ask these questions....
These are some replies that I've been told about, then: With our response....
"We guarantee your MC wheel to be factory spec." : Factory Spec. is always the absolute "Max" Outer Limit ...Before the Dumpster
"We get your motorcycle wheel to around ... .014" to .020", you don't need better than that" : Yah' Right !...if you ride at 35 mph.
...."The MC tire isn't that accurate" : Maybe? , but consider this, the tire will ware as true as the wheel there mounted on,
and balance better.. FYI Today's tire manufacturing technologies are producing tire tolerances of better than .1 mm run out.
" I can't fix this." This wheel could probably be made straight(er) but never made safe. : Well, the first part is accurate, they couldn't.
"Welding a crack in a wheel is not safe.": All cast MC wheels start life as molten metal, and with
today's welding technology and alloy fill material, the weld up is stronger than the base material,
we also heat treat and hardness test to insure proper metal temper.
"Our $ price to repair your wheel is less than Frame Straight" : This ones my Favorite, and I have to say...." You'll get what you pay for."
Be sure to read their fine print, I've seen half the quality at twice our price..
So Think About It , Isn't it worth having absolute precision and peace of mind....?


Click It >>> Wheel Repair Pricing <<< Click It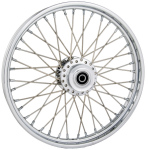 Wire Spoke Wheel Building & Repair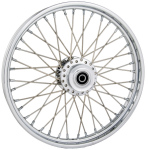 Plating, Paint, Powder and Ceramic Coat, Alum polishing

Click it >>>> "Performance Guarantee" <<<< Click it

"List of Services" "Home" "Contact and Shipping"

Experience the
Art of Straight


Copyright © 1999 [Frame Straight]. All rights reserved.
Revised: February 22, 2019 .